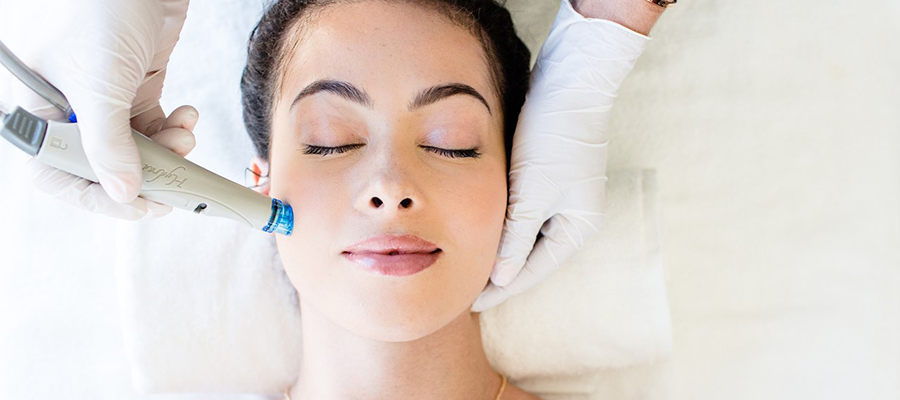 THE CHOICE OF HOLLYWOOD STARS IN SKIN CARE.
Hydrafacial MD, which was chosen as the skin renewal device of the year in the USA, stands out with its ability to be used safely even in the most sensitive skin, whether it is summer or winter. The Hydrafacial MD method provides the skin with the moisture, minerals and anti-oxidants it needs without damaging the skin.
It is effectively used in the treatments of fine wrinkles, sunspots, excessive lubrication and active acne. It satisfies us and our patients with its painless nature and effectiveness in skin problems and cleaning of pores, especially in young individuals. When we combine it with our other procedures, it yields even better results.
HOW IS HYDRAFACIAL MD PERFORMED?
Using a special technique, Hydrafacial MD nourishes the skin and simultaneously purifies the skin from dead cells, blackheads and excess oil with a rich serum and vacuum that comes out of its special headpieces. Unlike laser skin rejuvenating techniques, the method, which heals the skin without damaging, provides glowing and bright skin immediately after the procedure. You can participate in any invitation or activity you want immediately after the procedure.
WHY IS HYDRAFACIAL MD SO POPULAR?
Hydrafacial MD, which is very popular in the USA, is especially known for providing the red carpet glow of Hollywood stars. With Hydrafacial MD, the only FDA-approved skin rejuvenation system, you can undergo the procedure once a month not only for skin rejuvenation and spot treatment but also to maintain skin health regularly and keep your glow permanent. Therapeutic procedures are performed in 6 sessions, once a week.
SKIN CARE DEVICE OF THE YEAR AWARD IN 2015 AND 2017
Hydrafacial MD has an award-winning technology in the field of skin rejuvenation. Hydrafacial provides healing of the skin that has not been without damaging the skin with its superior vortex technology. There has not been any better product for a long time, and it is considered an indispensable device of skincare by many elite beauty centers around the world.
The system, which has a worldwide reputation, has an important place in medical aesthetic treatments as the skin rejuvenation technique is preferred by all individuals from Hollywood stars to specialist physicians. Unlike other systems; Hydarafacial MD offers extremely safe and quick skin rejuvenation. The procedure is an option you can choose in skincare, as it provides you with comfortable and instantly bright skin.